| | |
| --- | --- |
| Mon | 9.00am - 12noon |
| | 4.00pm - 6.00pm |
| | |
| Tue | 9.00am - 12noon |
| | 4.00pm - 6.00pm |
| | |
| Wed | 9.00am - 12noon |
| | 4.00pm - 6.00pm |
| | |
| Thur | 9.00am - 12noon |
| | 4.00pm - 6.00pm |
| | |
| Fri | 9.00am - 12noon |
| | 4.00pm - 6.00pm |
| | |
| Sat | 9.00am - 12noon |
| | 4.00pm - 6.00pm |
| | |
| Sun | 9.00am - 12noon |
Closed between:
12.15pm - 1.15pm
Bank Holidays
9.00am - 12 noon
FULLY LICENSED & INSPECTED BY THE LOCAL AUTHORITY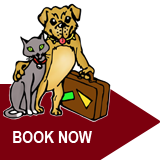 KENNEL & CATTERY FACILITIES
The Kennels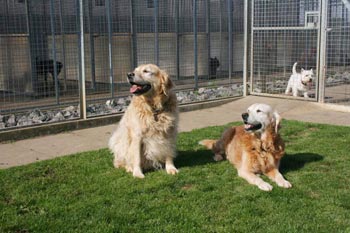 Our kennels are of solid construction, clean and fully heated (depending on the boarder's needs and the weather).
We provide plastic baskets and soft blankets, which are regularly laundered – some dogs like to bring a comforter (although, this must be washable please) and their favourite toy.
Food and Diets
All boarders are all fed twice daily and we try to feed the diet they are used to at home. We have a wide variety of food available, and only use premium branded foods products. We can cater for those boarders who may be a little fussy and we find chicken or tuna is a favourite!
(Unfortunately, we are unable to accomodate raw meat diets for boarders for health and safety reasons.)
Accomodation and Exercise
All dogs are kennelled and exercised individually (only those from the same household share).
When exercised the dogs have plenty of fun off-lead in one of our large, secure grassed exercise paddocks. The dogs have access to the paddocks a number of times a day whether they want to chase a ball, have good run round or just a sniff!  These are floodlit for the late evening 'let out' when the dogs are exercised just before bedtime (long after other kennels are closed for the evening). To finish off the day is the ever popular 'biscuit at bedtime' routine before bedtime.
The kennels themselves are fully heated and have covered outside runs which are attached to a secure safety corridor.
Puppies
We do cater for very young puppies as long as they are fully vaccinated.  Puppies are fed a number of times a day. We love to board puppies because the younger we have them the easier it is for them to board with us throughout their life.  All they want to do is play, eat and sleep and then repeat!
Oldies and Quieter Boarders
Not all our boarders want to run around and cause havoc, so we cater for those with a more sedate deposition – this may mean just spending a little more time with them and few extra pats everyday.
The Cattery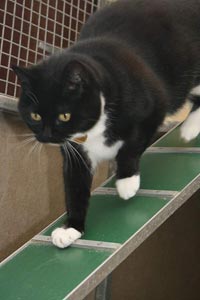 Our Cattery is secure and fully heated (depending on the cat's needs and the weather) where all cats are individually boarded.
Premium, branded foods are provided with a selection of tins, pouches and dry food. If your cat is feeling a little fussy we do cater for this with other foods. Cosy bedding is supplied and regularly laundered; cats can also bring a comforter and their favourite toy.
Every cat's litter tray is changed twice daily.
Kittens
We cater for kittens as long as they are fully vaccinated, we have a wide variety of kitten food which they are fed a number of times a day and they can bring their toys.
Other Information
We are open all year round.
We provide both day and long-term boarding.
Our facilities are highly secure and self-contained.
Our facilities are fully heated and air conditioned.
All boarders are fed at least twice a day.
All boarders are exercised regularly on a daily basis.
Staff are on-site 24 hours a day, 7 days a week.
Only vaccinated pets can board with us.
Vaccinations
All boarders must be FULLY vaccinated, and we do require proof of vaccination. Please remember to bring your pet's vaccination certificate with them.
Dogs are required to be vaccinated against Infectious Bronchitis (otherwise known as 'Kennel Cough') in addition to the standard set of vaccinations, please ask your Vet for further information.
Insurance
All boarders are fully insured during their stay with us. Our insurance is provided and underwritten by Pet Plan Insurance (terms and conditions apply).
Medication
We are happy to administer medication during your pet's stay with us. To provide further peace of mind, we have our own Veterinary Surgery on-call 24 hours a day, 7 day a week but we are happy to use your own vet if required.
Construction Work
We are currently constructing a new purpose-built kennel facility as part of our modernisation project. Please excuse our appearance while we undertake this work, which is nearly completed.
To discuss your pet's needs or to make a booking, please telephone us on (01733) 233311 or send us an email.